bomi
a powerful and easy-to-use multimedia player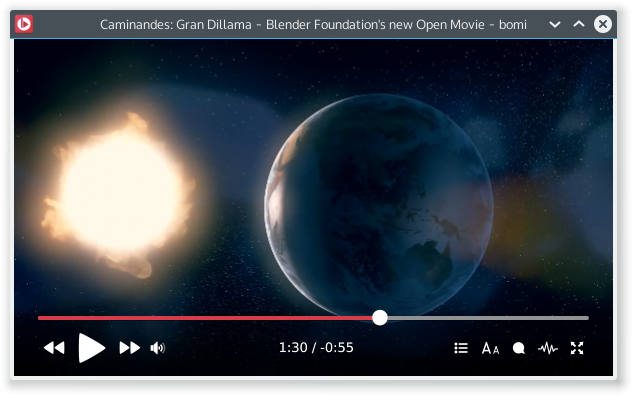 ---
Project maintained by xylosper
Hosted on GitHub Pages — Theme by mattgraham
Welcome to bomi project page

bomi is a multimedia player formerly known as CMPlayer, which is aimed for easy usage but also provides various powerful features and convenience functions. Just install and enjoy it! There will be already what you expect. If you don't like, you can configure almost everything.
Introduction

bomi is a graphical user interface(GUI) player based on mpv for Linux. By taking the advantage of mpv and GUI, bomi provides various features.
User-friendly interface

bomi provides a easy-to-use graphical user interface(GUI). You can find all features in the context menu. All configurations can be done in a preferences dialog.

Unlimited playback history

bomi records all playback history by default and provdes the way to resume playback later. bomi also tracks playback states such as selected audio/loaded subtitle etc.

Automatic playlist generation and restoration

bomi can generate playlist based on file name. Also, last played playlist is saved and restored automatically.

Enhanced subtitle handling

bomi supports various subtitle formats. bomi can render multiple subtitle files at the same time. bomi also can render styled subtitles such as SAMI and ASS format.

Hardware acceleration

bomi supports hardware-accelerated decoding by GPU with help of mpv. bomi will utilize available native API for the system between VA-API and VDPAU.

Various convenient features

bomi provides a number of convenient features which are not listed here as well as basical player features.
To see full feature list, please check the wiki page.
Contacts
If you have problems, feature requtest, or any questions, please post them here.
If you want to ask something privately, please send me an e-mail.

License

bomi is distributed under GPLv2.

Copyright (C) 2008 - 2015 Lee, Byoung-young A.K.A. xylosper

This program is free software; you can redistribute it and/or modify it under the terms of the GNU General Public License as published by the Free Software Foundation; either version 2 of the License, or (at your option) any later version.

This program is distributed in the hope that it will be useful, but WITHOUT ANY WARRANTY; without even the implied warranty of MERCHANTABILITY or FITNESS FOR A PARTICULAR PURPOSE. See the GNU General Public License for more details.

You should have received a copy of the GNU General Public License along with this program; if not, write to the Free Software Foundation, Inc., 51 Franklin Street, Fifth Floor, Boston, MA 02110-1301, USA.

Credits and special thanks

bomi logo is designed by Ivan from Kotus Works.

Special thanks to Mingyu Jo and Donghyun Ha for suggestion of good naming.